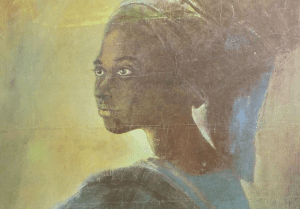 A portrait of a Nigerian princess that was lost for more than 40 years and was found in a London apartment has sold for over $1.6 million (£1,205,000).
"Tutu", by Nigeria's best-known modern artist Ben Enwonwu, was painted in 1974 and appeared at an art show in Lagos the following year but its whereabouts after that were unknown until it re-surfaced in north London.
"The fact that she's been lost for all these years and finally discovered, is truly an amazing thing," said Eliza Sawyer, specialist of African art at London's Bonhams auction house where the painting is on display.
It had come as a shock to find the painting hanging in a north London home where specialists were called to examine it, because there had been several wild goose chases in the past in search of the originals. The owners did not wish to be identified.
The portrait of Adetutu Ademiluyi, who was a grand-daughter of a revered traditional ruler from the Yoruba ethnic group, holds special significance in Nigeria as a symbol of national reconciliation after the 1967-1970 Biafran War.
Enwonwu belonged to the Igbo ethnic group, the largest in the southeastern region of Nigeria that had tried to secede under the name of Biafra. The Yoruba people, whose homeland is in the southwest, were mostly on the opposing side in the war.
Enwonwu painted three versions of the portrait. The other two remain lost, although prints first made in the 1970s have been in circulation ever since and the images are familiar to many Nigerians. Enwonwu died in 1994.
Nigerian author Ben Okri said the find was on the same scale as an "important archaeological discovery," and that the painting was the Mona Lisa of African art.